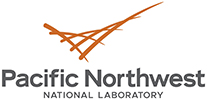 Pacific Northwest National Laboratory
Coordinator:
James Ang
Review abstracts for current and past practicum experiences at Pacific Northwest Lab >>
Pacific Northwest National Laboratory (PNNL) is a U.S. Department of Energy lab managed and operated by Battelle since 1965. Our vision reflects our commitment to addressing great challenges in each of PNNL's mission areas — scientific discovery, energy resiliency, environment, and national security — with our DOE sponsors and partners. PNNL draws on signature capabilities in chemistry, Earth sciences, and data analytics to advance scientific discovery and create solutions to the nation's toughest challenges in energy resiliency and national security.
Advanced Computing and Data Sciences
PNNL's research integrates fundamental computer science and mathematics to understand the capabilities and constraints of emerging computing technologies including heterogeneous and reconfigurable architectures, and quantum information systems. Our researchers design the next-generation of algorithms for the analysis, modeling and visualization of complex systems, develop new artificial intelligence and machine learning methodologies and tools, and optimize the performance and energy efficiency of advanced computing systems.
Research Areas
Fundamental research is the centerpiece of what we do at PNNL. Using innovative modeling and simulation to explore a range of problems, from the impact of clouds and aerosols on Earth's climate, to the development of new catalysts and advanced materials, we take on some of the greatest research challenges, for a safer, more secure, and more prosperous world. Our scientists and engineers are improving and modernizing U.S. energy systems, making them more efficient and more resilient in the face of extreme weather events, physical failures, and cyberattacks. Our researchers work in many areas, including advanced power grid modeling, energy storage and renewable energy integration, and grid cybersecurity, to realize our vision of a U.S. energy system that is more efficient, flexible, and sustainable. In addition, PNNL develops science-based solutions that keep America safe. These national security missions include, securing our nation's critical infrastructure, combatting global terrorism, detecting concealed threats, and protecting our citizens from cyber, nuclear, chemical, and biological weapons of mass effect and other forms of proliferation and terrorism.