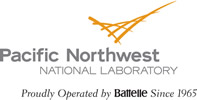 Pacific Northwest National Laboratory
Coordinator:
James Ang
Review abstracts for current and past practicum experiences at Pacific Northwest Lab >>
Computational Science and Engineering
Key capability areas at Pacific Northwest National Laboratory within the Computational Science and Engineering areas include the following:
Applied Mathematics and Statistics. Complex, real-world problems require complex applied mathematics and statistics. PNNL offers diverse capabilities including numerical analysis modeling and simulation, data mining, and artificial intelligence applied to visualization techniques.
Atmospheric Science. Atmospheric chemistry influences human health, climate, food production and, through its impact on visibility, our view of the world. Chemicals in the air affect us with each breath we take. Suspended particulates formed from gas-phase reactions affect the amount of solar energy reaching the earth's surface. For these reasons, government and industry have a vested interest in improving our knowledge of these processes. PNNL researchers conduct surface and airborne fields campaigns that synthesize both the meteorological and chemical kinetics of the atmosphere, carry out detailed laboratory investigations of the interactions between trace gases and aerosols ("heterogeneous chemistry"), and use molecular-scale dynamic models to understand these processes.
Biology. Researchers at PNNL are developing the fundamental scientific basis for understanding the impact of natural and anthropogenic factors on human health, starting at the molecular level. They are developing science and technologies that integrate physical, chemical, and biological approaches with other disciplines. Researchers have the capability to use software, such as the Molecular Sciences Software Suite, that is designed for massively parallel computers to study interaction of small- to medium-size molecules with proteins. They also can study how cells interact with mineral surfaces outside the cell. At the cellular level, a range of tools is available to model and predict, for example, the behavior of cell signaling pathways. For larger biological systems, computer simulations can be used to model, for example, the respiratory system in humans and in animal models, such as the rat. As the biological sciences continue to develop and use new instrumentation, researchers will generate huge amounts of data that will need to be integrated into complex models. These data can be linked through common databases and interfaces into collaborative problem-solving environments, similar to the Molecular Science Software Suite.
Chemistry. One of the most challenging environmental issues confronting DOE is the safe and cost-effective management and remediation of legacy nuclear wastes. This legacy includes a large set of very complex problems. To develop safe and cost-effective remediation strategies in a timely fashion, decision makers need a fundamental understanding of molecules and their interactions in isolation (gas phase), in liquids, on surfaces, at interfaces, and in condensed phases.
PNNL's research in computational chemistry plays a critical role in remediating contaminated sites and reducing future pollution across the different spatial and temporal scales, which are critical to understanding complex systems. Modeling and simulation can be used to provide a glimpse into the future. High-performance computing facilities are essential to deliver modeling and simulation results so that effective decisions can be made and implemented.
PNNL researchers have developed integrated, comprehensive problem-solving environments; created chemistry software for massively parallel computers; developed and applied molecular theory and models; and applied theory and models to chemical structures and reactivity. This research is conducted using all of the resources at PNNL, including the Molecular Science Computing Facility.
Computer Science. PNNL staff, working in cross-disciplinary teams, have considerable experience in creating collaborative problem-solving environments, developing and using state-of-the-art high-performance computing libraries and tools, and creating nationally recognized information visualization products.
Engineering. Engineers at PNNL focus on improving lifestyles but not at the cost of depleting global resources. They provide comprehensive computational modeling in solid, thermal, and fluid mechanics and electrochemistry. They can examine mechanical properties in detail and design and improve manufacturing techniques. They are experts in using computers for engineering analysis of stress, thermal effects. They use a variety of commercial modeling codes to answer design questions as well as develop analysis software to meet specific customer needs.
Reactive Chemical Transport. PNNL researchers develop and implement critical reactive chemical transport modeling systems that can transfer information across time and length scales. A variety of techniques and methods are used, including mineral preparation and characterization, spectroscopic studies of the mineral-water interface, quantum mechanical and atomic-scale modeling, thermodynamic and kinetic modeling, and large-scale environmental modeling.
Computer Science and Information
More than half of the Computer Science and Information Technologies capabilities are deployed in support of PNNL business management and operations systems. Network staff provide services to nearly all of the market sectors represented at Pacific Northwest National Laboratory. The primary sectors served include Office of Chief Executive Officer (internally funded projects), DOD/Army, DOE office of Nonproliferation, Environmental Management, Energy Efficiency and Use, Environmental Protection Agency, and special security projects.
A summary of the capabilities and technologies represented by this network include:
Applied Information Systems
Artificial Neural Networks
Collaborative Technologies
Data and Knowledge Engineering
Data Management
Data Reduction/Analysis
Distributed Computing
Distributed Learning
Enterprise Business Systems
Geo-Spatial Information Systems
High Performance Computing
Human Information Interaction
Information Assurance and
Infrastructure Protection
Information Engineering
Information Operations
Integration Engineering
Knowledge Engineering/DiscoveryWeb
Intelligent Agents
Massive Data Management
Multimedia
Network Engineering/Architectures
Rapid Systems Development
Real-Time Scientific Data Acquisition and Analysis
Rich Interactive Environments
Scientific Application Integration
Scientific Computing
Situation Planning and Response
Virtual Environments
Web Technologies