2019 Highlights
Alumni News: Former fellows are playing leading roles in the Department of Energy's ascent to exascale computing.
Fellow Profiles:

Casey Berger left Hollywood to pursue quantum conundrums at the University of North Carolina, Chapel Hill.

Julia Ebert herds robots and tackles technology problems at Harvard University.

Max Bremer blows away limits on hurricane model performance at the University of Texas at Austin.

Stanford University's Carson Kent started working on DOE supercomputers in high school. He's still going.
Winning CYSE Contest Essay: Jacob Bringewatt takes readers down on the farm to understand quantum computing.
Howes Scholars in Computational Science: Chelsea Harris of Michigan State University and Adam Riesselman of Insitro, a drug-discovery company.
Interview: DOE CSGF alumnus Jarrod McClean on making quantum computers useful.
Deixis Magazine Image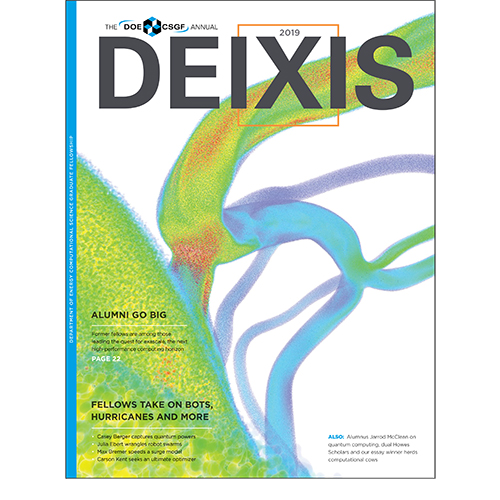 URL to Deixis Magazine
https://www.krellinst.org/doecsgf/docs/deixis/deixis2019.pdf
Deixis Magazine Year
2019