2017 Highlights
Fellow Profiles:

Kathleen Alexander, Massachusetts Institute of Technology – computing grain boundary properties.

Adam Richie-Halford, University of Washington – quantum properties of neutron star matter.

Alexander Turner, Harvard University – modeling methane gas sources.

David Ozog, University of Oregon – accelerating computational chemistry codes.
Alumni Profiles:

Amanda Randles, Duke University – simulating the human circulatory system.

Brandon Wood, Lawrence Livermore National Laboratory – researching materials for hydrogen storage.

Jenelle Bray, LinkedIn – stopping scammers and scrapers.
Winning CYSE Contest Essay: Hilary Egan on computing exoplanet properties.
Howes Scholar in Computational Science: Eric Isaacs, Northwestern University
Interview: Jeremy Kepner, MIT Lincoln Laboratory – artificial intelligence
Deixis Magazine Image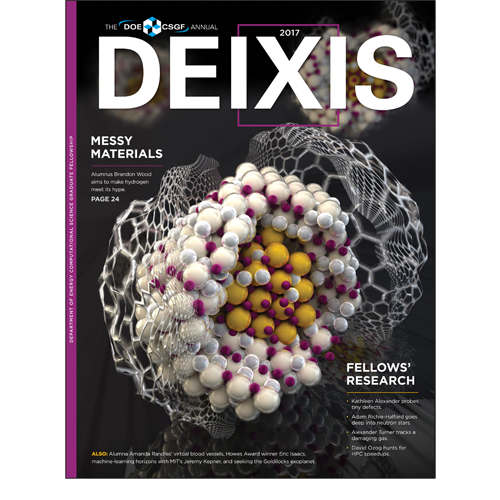 URL to Deixis Magazine
https://www.krellinst.org/doecsgf/docs/deixis/deixis2017.pdf
Deixis Magazine Year
2017