Alumnus Receives Phase II NSF SBIR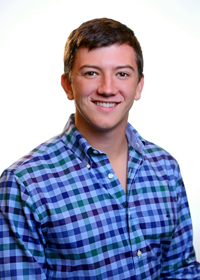 A business founded by a Department of Energy Computational Science Graduate Fellowship (DOE CSGF) alumnus will receive an added $1 million from the National Science Foundation to commercialize technology designed to solve weather and climate problems in energy and insurance.
This is the second Small Business Innovation Research (SBIR) award that Benjamin Toms, a 2017-2021 fellow, has received for Intersphere, his weather and climate forecast start-up. The two-year grant will further support commercializing the company's technology. Results the company achieved with its phase one award helped determine the phase two grant, which usually is $750,000 over two years.
In phase one, Toms' company received a $256,000 SBIR award, which focused on establishing the technical merit, feasibility, and commercial potential of Intersphere's weather and climate forecasting system. Phase two supports research and development to implement the new-scale technology.
Intersphere was founded in 2021 to develop actionable weather and climate forecasts that will help humanity prepare for weather and climate extremes.
Toms earned his Ph.D. in atmospheric science from Colorado State University in 2021.