Argonne Honors Fellow for COVID-19 Research Effort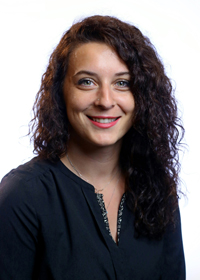 Argonne National Laboratory has recognized Department of Energy Computational Science Graduate Fellowship (DOE CSGF) recipient Anda Trifan for outstanding contributions to the lab's efforts to fight the novel coronavirus.
Trifan, a theoretical and computational biophysics doctoral candidate at the University of Illinois at Urbana-Champaign, was part of a team that received the Impact Argonne Award in July. The award honors individuals or teams with notable achievements in one of eight areas, including discovery of new knowledge.
Trifan began the project while on a practicum at Argonne in early 2020. The team, led by computational biologist Arvind Ramanathan, worked on techniques to screen compounds for effectiveness against COVID-19. It developed new artificial intelligence (AI) and machine-learning methods to enable discovery of novel small molecules that inhibit SARS-CoV-2, the virus that causes the disease.
A citation from lab director Paul K. Kearns noted the team's work in developing reinforcement learning approaches for drug discovery, which pushed "the frontiers in how AI methods can be integrated with physics-based simulations."
Trifan's practicum was to end in April but was extended twice until Argonne hired her as an intern this summer. She continues to work on the project, which is separate from her doctoral thesis research with Emad Tajkhorshid.