Science in Parallel Podcast Interviews Computational Science Innovators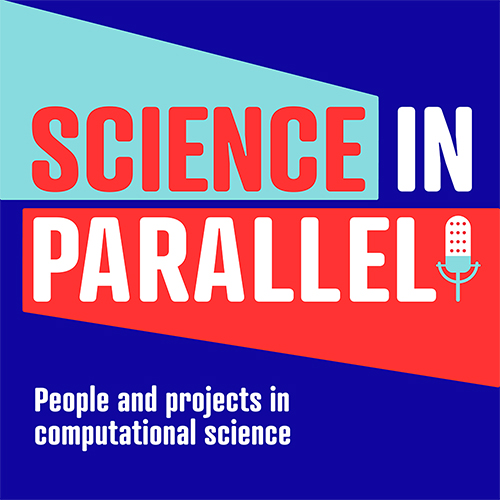 The Krell Institute is launching Science in Parallel, a podcast highlighting people and projects at the interface of science and computing. The first season features scientists who use computers to design alternative energy strategies, zero in on the chemistry of molecular surfaces, build quantum control algorithms and more. Along the way, listeners also will learn how these researchers have built their careers, mentored others and influenced their fields.
The first two of six Science in Parallel season-one episodes are immediately available. A third episode will be released in mid-September, with a new episode to be released every two weeks through October.
The inaugural season celebrates the 30th anniversary of the Department of Energy Computational Science Graduate Fellowship (DOE CSGF), and guests are fellows or alumni of the program, said Sarah Webb, Science in Parallel host and the Krell Institute's associate science media editor. "Not only do we talk about research, but we also discuss the problem solving and teamwork involved in applying computation to big questions in science and society."
In episode one, "Leading by Example," Lawrence Livermore National Laboratory's
Jeff Hittinger
describes his multiple scientific roles – computer scientist, applied mathematician and physicist,
Center for Applied Computing (CASC)
 director and DOE CSGF co-principal investigator. He talks about scientific success, leadership and techniques for communicating science to broader audiences.
Episode two, "Do the Work and Meet the People" explores pioneers who are applying artificial intelligence to climate change. Carnegie Mellon University's Priya Donti, McKinsey & Company's Kelly Kochanski and Intersphere founder Ben Toms discuss how one of today's hottest areas of computational research could build better solutions for society's steepest challenges. Their work couples broad knowledge of climate science, public policy and engineering with deep computational science and mathematics expertise.
The Krell Institute supports technology-based education and information programs with technical assistance, management expertise and communications products and collaborates with agencies and institutions to foster the nation's competitive advantage in science and engineering.