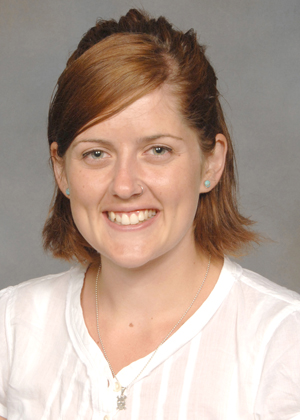 Krystle Catalli
Apple, Inc.; Fellow 2007-2011
As a student, the appropriately named Krystle Catalli used a diamond-anvil cell to squeeze small amounts of minerals, subjecting them to extreme pressures found hundreds of kilometers below Earth's surface to see how their properties changed.
Now she's studying how materials behave under different kinds of extremes – those faced by personal computers and mobile devices.
Catalli is a materials science and failure analysis engineer for Apple Inc. in Cupertino, Calif. She took the job after graduating from the Massachusetts Institute of Technology and working as a postdoctoral researcher at Lawrence Livermore National Laboratory.
"The fellowship encouraged me to meet and interact with people outside of my direct discipline," Catalli says. "I believe this made me more comfortable with changing disciplines after grad school."
The program, including her 2008 Livermore Lab practicum and her postdoc, let Catalli learn numerous analytical methods. "This gave me a great background for my current career, since I have knowledge of so many different techniques."
Catalli plans to continue working in industry. Her job challenges her with a stream of new projects and she constantly learns new techniques. While it's impossible to say what the future holds, "I know I have many options," she adds.