Alumnus Edgar Solomonik Honored for Early Career Research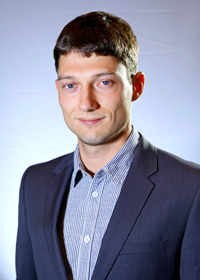 The Society for Industrial and Applied Mathematics (SIAM) is honoring a Department of Energy Computational Science Graduate Fellowship (DOE CSGF) alumnus with an award for outstanding early career research.
The SIAM Activity Group on Supercomputing is recognizing Edgar Solomonik, a fellow from 2010 to 2014 and now an assistant professor of computer science at the University of Illinois at Urbana-Champaign (UIUC). He'll receive the award February 14 at the SIAM Conference on Parallel Processing for Scientific Computing in Seattle.
The activity group awards the prize every two years to an early-career researcher making outstanding contributions to algorithms research and development for parallel scientific and engineering computing in the three calendar years before the award year. Solomonik was chosen for his work on communication-avoiding algorithms for a range of problems in numerical linear algebra and on tensor contraction algorithms and software, a SIAM release says.
Solomonik received his computer science Ph.D. from the University of California, Berkeley, in 2014 and was a postdoctoral researcher at ETH Zurich before joining UIUC. In 2018 he received the Technical Consortium on High Performance Computing Early Career Researchers Award, sponsored by the Institute of Electrical and Electronics Engineers Computer Society.
The 2013 issue of DEIXIS, the DOE CSGF annual, highlighted Solomonik's early work (PDF, page 9).