Notre Dame Mosquito Research Includes Alumnus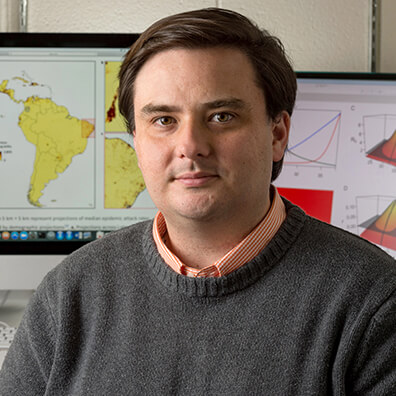 A University of Notre Dame project to evaluate new mosquito repellent strategies, the largest research award in the institution's history, includes a Department of Energy Computational Science Graduate Fellowship alumnus.
Alex Perkins, Eck Family Assistant Professor in Notre Dame's Department of Biological Sciences, is part of a team receiving the five-year, $33.7 million award from Unitaid. The international organization is dedicated to more effectively preventing, diagnosing and treating several infectious diseases, including mosquito-borne conditions such as malaria, dengue and Chikungunya.
The program will include clinical trials in Kenya and Sri Lanka, as well as studies among displaced populations in Mali and in refugee settings in Uganda, a Notre Dame release says. The program aims to further generate evidence supporting a recommendation to the World Health Organization (WHO) to use spatial repellents for public health and to guide their delivery and implementation in humanitarian emergencies, it says.
The principal investigator is John Grieco, research associate professor of biological sciences and associate director of Notre Dame's Eck Institute for Global Health. The research team will evaluate the efficacy and cost-effectiveness of scalable spatial repellents – volatile chemicals released into the air to inhibit insect behavior – in reducing and protecting against new infections. Perkins is part of a Notre Dame team that will coordinate and implement of all aspects of the study.
Perkins' research uses mathematical, computational and statistical approaches to better understand infectious disease dynamics and controls, his university website says. He earned his bachelor's degree in computational ecology from the University of Tennessee in 2006 and his doctorate in population biology from the University of California, Davis, in 2011.