Alumnus Publishes "Trojan Horse" Cancer Research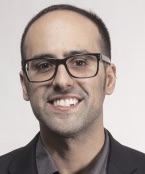 A Department of Energy Computational Science Graduate Fellowship (DOE CSGF) alumnus is engineering bacteria to treat cancer tumors from within.
In a paper published in the journal Nature Medicine, Tal Danino and colleagues describe how an engineered, non-disease-causing organism colonized tumors in mice and released tiny antibodies that made the cancer susceptible to the immune system attack. The treatment led to a complete lymphoma tumor regression in the mouse model and even controlled other, uninjected tumors, a Columbia University release said.
Danino, a DOE CSGF recipient from 2006-2010, is an assistant professor of biomedical engineering at Columbia. The project was conducted in collaboration with Nicholas Arpaia, assistant professor of microbiology and immunology at Columbia University Irving Medical Center.
The researchers' treatment targets a protein called CD47, a "don't eat me" signal that protects red blood cells from immune-cell attack. As blood cells age, they lose the protein and the immune system eliminates them in favor of new cells.
Cancer tumors also produce CD47, making them invisible to the immune system. Treatments to counter this cloak and unleash an immune response so far have struggled with toxic side effects.
Danino and his colleagues, including lead author Sreyan Chowdury, a Columbia doctoral student, engineered the non-disease-causing bacteria, a modified form of Escherichia coli, to target the protein exclusively within the tumor, avoiding systemic side effects. The engineered bacteria grow and multiply in the tumor's core, each producing molecules called nanobodies that are smaller and more powerful than conventional antibodies. When the bacteria reach a certain threshold in numbers, they self-destruct.
The tumor is flooded with nanobodies that attach to CD47, making it susceptible to attack from immune cells. The cells also migrate to other tumors, helping shrink them.
The research was featured in a New York Times article. The team is performing further proof-of-concept tests and safety and toxicology studies of the engineered bacteria technique.
You can learn more about Danino's research in this video.